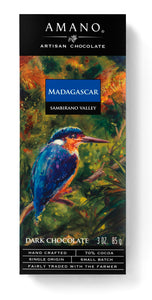 Madagascar Dark Chocolate Bar 70%
Madagascar has long been known for producing fine cocoa beans. They are descended primarily from Trinitarian and Criollo varieties. Product of Utah, USA. 
Tasting notes: This is an nontraditional cacao with strong fruity flavors that include hints of citrus and berry, which are unique to beans from Madagascar
3 oz
Ingredients: cocoa beans, pure cane sugar, cocoa butter, whole vanilla beans.
*See product packaging label for additional information on nutrition, ingredients, and allergens
Dimensions: 7.75x3.25
---
We Also Recommend