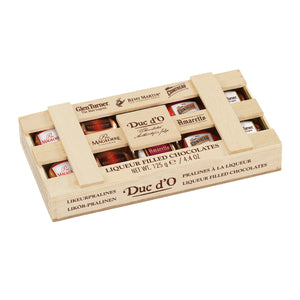 Liqueur-Filled Chocolates 10pc Assortment Crate
Belgian chocolate combined with premium liqueurs. Perfect for any occasion these truffles are filled with some of the world's most prestigious spirit brands. Each is individually wrapped. The liqueurs inside the chocolates are encased in a sugary shell to preserve their liquid state. Great gift! Product of Belgium.
Assortment contains: Cointreau, Amaretto, Remy Martin, Glen Turner, and Pere Magloire
4.4 oz
Contains Alcohol
Must be 21 years of age to purchase
May contain gluten and nuts
Alcohol W/W 3% min. 3.2% max
Ingredients: sugar, water, cocoa mass, cocoa butter, Cognac Remy Martin, Amaretto, Cointreau, Père Magloire, Glen Turner, fat-reduced cocoa powder, anhydrous milk fat, soy lecithin. Minimum 57% cocoa solids.
*See product packaging label for additional information on nutrition, ingredients, and allergens
Dimensions: 7.5x3.75x1.25
---
We Also Recommend