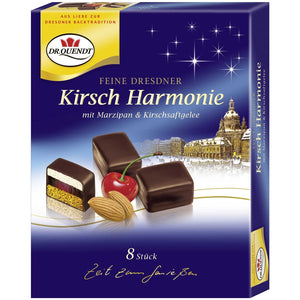 Kirsch Harmonie German Chocolate Gift Box
This is one of the must-have German Christmas cookie treats. These squares are made of a gingerbread bottom, topped by layers of marzipan and cherry jelly, and covered in dark chocolate. Contains 8 pieces. Great holiday gift! Product of Germany.
5.3 oz
May contain traces of: other gluten-containing cereals, egg, soya, other nuts, celery, mustard, sesame, lupine
Ingredients: sugar, glucose-fructose syrup, cocoa mass, almonds 8 %, wheat flour, water, sour cherry juice 4 % (from sour cherry juice concentrate), cocoa butter, caramel syrup, dextrose, invert sugar syrup, acidity regulator: citric acid, sodium diacetate; rye flour, bitter almonds, butterfat, strongly de-oiled cocoa, gelling agent: Pectin; glucose syrup, spices, raising agents: ammonium bicarbonate, potassium carbonate; emulsifier: lecithin; cinnamon, humectant: invertase; apple extract, natural flavor, coloring black currant concentrate, coloring carrot concentrate, milk powder.
*See product packaging label for additional information on nutrition, ingredients, and allergens
Dimensions: 6 x 4.5 x 1
---
We Also Recommend