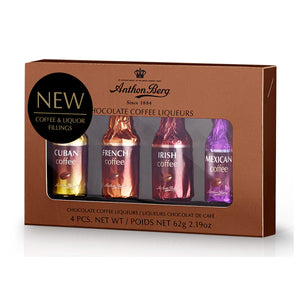 Dark Chocolate Coffee Liquor Filled Bottles 4pc Assortment box
Perfect for any festive occasion these miniature dark chocolate bottles are filled with some of the world's most known coffee liquors. Each is individually wrapped in foil. A patented process is used to prevent the liqueurs from leaking. Perfect for your next dinner party – and there are no glasses to clean! Product of Denmark.
Assortment contains: Cuban, French, Irish, and Mexican Coffee Liqueur.
2.2 oz
Contains Alcohol
Must be 21 years of age to purchase
GMO Free
Ingredients: sugar, cocoa mass, cocoa butter, spirits, vegetable fat in filling, rapeseed lecithin, canola lecithin, ethyl vanillin, flavoring.
*See product packaging label for additional information on nutrition, ingredients, and allergens
---
We Also Recommend