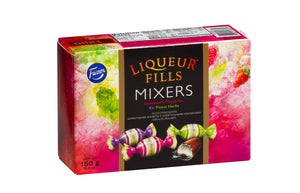 Chocolate Mixer Liqueur Fills Assortment Box
The traditional Fazer Liqueur Fills sweets have an ageless, stylish taste. They are filled with fine European Liqueurs 2.8% alcohol-by-volume, and mixed with an assortment of flavors. Each candy is individually wrapped. Product of Finland.
5.3 oz
Contains: Strawberry Margarita, Kir, Finest Herbs
Contains Alcohol
Must be 21 years of age to purchase
May contain traces of milk, wheat, nuts and tree nuts
Ingredients: sugar, cocoa mass, alcohol, water, cocoa butter, milk fat, rum, soy lecithin, maraschino, flavorings.
*See product packaging label for additional information on nutrition, ingredients, and allergens
Dimensions: 5.25x3.5x1.75
---
We Also Recommend